Dayton Rogers Mfg. Company - Quality Assurance Technician
Post-Hire Training
Recruitment #73-58-03
| | |
| --- | --- |
| Company | Dayton Rogers Mfg. Company |
| Date Opened | 9/26/2013 12:00:00 PM |
| Filing Deadline | 11/25/2013 10:30:00 AM |
| Location | Richland |
Introduction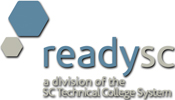 In Cooperation with
Midlands Technical College
will assist
Dayton Rogers Manufacturing Co.
in recruiting and on-the-job training for their facility. Full time positions are available for:
Quality Assurance Technician
Dayton Rogers is a privately held metal forming company with six regional manufacturing locations across the U.S. In 1929, Dayton Rogers began as a supplier of short-run metal stampings. Today, we are a full service supplier of precision metal formed products with sheet metal fabrication, machining, and metal stamping capabilities.
Tasks
Inspect, test, or measure materials, products, installations, and work for conformance to specifications.
Analyze and interpret blueprints, data, manuals, and other materials to determine specifications, inspection and testing procedures, adjustment and certification methods, formulas and measuring instruments required.
Develop and apply standards to assure conformity.
Measure dimensions of parts to verify conformance to specifications, using measures instruments such as rulers, calipers, gauges or micrometers.
Read and understand drawings, job cards, and work instructions to determine specifications, locations of product features, dimensions and tolerances.
Provide feedback to supervisor, Engineering as to fit, tolerance, appearance or questionable procedures and practices
Demonstrate an ability to multitask and prioritize work load to meet deadlines.
Communicate with customers, engineers, and vendors as needed.
Complete routine paper work, including inspection records, check sheets, and quality non-conformance tags.
Qualifications
High School diploma or General Education Degree with a minimum of three years of related work experience, training, or equivalent combination.
Experience working with raw materials, production processes, quality control, costs, and other techniques for maximizing the effective manufacture and distribution of goods.
Certification or degree from qualifying program.
Knowledge Skills and Abilities
Able to conduct inspection of products to evaluate conformance to quality, appearance, or performance standards using drawings and inspection equipment.
Knowledge of the practical application of engineering science and technology. This includes applying principles, techniques, procedures, and equipment to the design and production of various good and services.
Manual dexterity verified by the ability to quickly move the hand, the hand together with the arm, or both hands to grasp, manipulate, or place objects.
Identify complex problems, review related information to develop and evaluate options and implement solutions.
Able to concentrate on a task over a period of time without being distracted.
The ability to create and participate in a Shared Values environment, exemplifying the companies People and Business Values.
Must be able to effectively manage one self, demonstrate integrity, be productive under pressure, and achieve production goals.
The ability to imagine how something will look after it is moved around or when its parts are moved or rearranged.
Advanced print reading experience.
Physical Requirements
Primary working position is with arms extended in front of the body with upper body bent forward.
95% of the job requires standing and moving around the equipment, 5% of the job requires assuming awkward positions including kneeling, squatting, or reaching.
Material movement requires lifting, carrying, twisting/reaching, pushing and pulling.
The lifting range is from floor level to 64".
Must be able to lift up to 40 lbs. with 90% of items weighing between 5 and 30 lbs. Lifting aids are available for items weighing over 40 lbs.
For more information visit http://www.readysc.org/daytonrogers.
Apply online now