Thursday, November 23, 2017
Boeing - Assembler/Fabricator
Pre-Employment Training
Recruitment #05-052-30
| | |
| --- | --- |
| Company | BOEING |
| Date Opened | 8/13/2011 12:01:00 AM |
| Filing Deadline | 8/13/2011 11:59:00 PM |
| Location | Charleston |
Introduction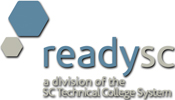 readySC™, in cooperation with Trident Technical College and Boeing South Carolina, will conduct a Pre-Hire Training and Review Program for potential entry-level employment opportunities at Boeing's North Charleston facilities.
Training applications are currently being accepted for the following positions:
ASSEMBLER/FABRICATOR
 Requirements:
Availability to work any shift (days, nights and weekends)

Standing for long periods of time, and work on elevated spaces may be required.

High School Diploma or GED required, in addition to drug screen, physical and satisfactory background check.

One year prior experience in manufacturing, assembly, electrical, construction, auto mechanic OR mechanical military experience OR successful completion of a WIA-sponsored Pre-Manufacturing course OR successful completion of an Aircraft Assembly or Aeronautical Studies course offered by Trident Technical College. 

Skilled independent craftsmen from the following industries:  vehicle interior, electronics, carpet weaving and textile manufacturers OR fiber, plastic, sheet metal molding/finishing; siding, trim, injection and fiberglass molding operations.

Work from electronic models, manufacturing specifications and procedures, quality procedures and instructions, operations and work sheets and company and customer specifications and procedures.

Drill, edge fill and assemble a variety of detail parts, skins and assemblies.

Inspect for proper installations and integrity. Approve and stamp acceptable assemblies and reject assemblies not meeting requirements.

Perform Production Accountability duties associated with the processing, verification, quality auditing and inspection of assemblies, parts and tooling for which the individual has been delegated production accountability.

Maintain necessary documentation and records. Refer any unusual problems to supervision. Strict adherence and compliance to safety and Foreign Object Elimination programs.
 For additional information about the Pre-Hire Training and Review Program visit:
Phase I Training is a thirty-two hour unpaid pre-hire training and review process that is required in order to be considered for an entry-level Assembler/Fabricator position with Boeing South Carolina.

Upon successful completion of Phase I Training, candidates will have the opportunity to participate in a paid 180-day Pre-Hire Training and Review Program. 

Upon successful completion of the paid 180-day Pre-Hire Training and Review Program, participants typically receive a job offer resulting in an increase in pay and additional benefits.
If you have questions about the Pre-Hire Training and Review Process, please send an email to:  
readySC@tridenttech.edu. or call (843).574.6426
The South Carolina Department of Employment and Workforce (SCDEW) will review applications and conduct interviews.  Candidate applications are screened by SCDEW based on the criteria provided by Boeing.

All applications will be reviewed in the order in which they have been received.  E

Eligible candidates will then be contacted by SCDEW via email for a follow-up interview.  This interview will be conducted over the phone.  

Qualified candidates will be selected to participate in WorkKeys® testing and a series of mandatory contingency screenings.  These assessments will be administered at no cost to the candidate.

Candidates who successfully complete the required WorkKeys® testing and contingency screenings will have the opportunity to participate in the Phase I training.
For assistance, please visit your local One Stop Center between 8:30 am and 4:00 pm, Monday through Friday.   Visit www.sconestop.org to find a One Stop near you.
***An Equal Opportunity Employer M/F/H/V***