Venture Aerobearings-Bearing Technician (CNC Machinist)
Post-Hire Training
Recruitment #39-00-02
| | |
| --- | --- |
| Company | Venture Aerobearings, LLC |
| Date Opened | 8/30/2010 5:00:00 PM |
| Filing Deadline | 1/3/2012 1:40:00 PM |
| Location | Charleston |
Introduction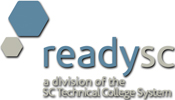 In Cooperation with
Trident Technical College
will conduct a training program for
Venture Aerobearings LLC

for
Bearings Technician (CNC Machinist)
About Venture Aerobearings:
An excellent career opportunity exists with Venture Aerobearings LLC, a joint venture established by SKF Group and GE Aviation to manufacture aeroengine bearings for GE jet engines in Ladson, SC (Metro Charleston).  Venture Aerobearings LLC is a start-up operation, bringing together the latest technology from both GE and SKF and using a self-directed/high performance team concept.  State of the art equipment is being combined with innovative manufacturing and inspection processes in a paperless environment. This is an exciting opportunity with tremendous growth potential.
Minimum 5 years of prior experience in set-up and operations of CNC grinders, lathes, milling equipment, etc. or a graduate of any recognized machinist or toolmaker program.

Minimum starting wage:

$18.00/hr  - Off-shift premium will apply.

Must be willing to work any shift and stand for long periods of time. 

Qualified candidates must be able to work from layouts and dimensions on drawings and read manual gages.  Qualified candidates must be able to load align, and set up machine per drawings instructions and maintain quality production records. 

Candidate must have the ability to read and interpret blueprints and be able to read shop math and have knowledge of machining methods and cutting tools. 

Will be required to complete a company specific mechanical skills assessment.

Pre-employment physical/drug screen, background check, and on-going random drug screens. 

Must pass a visual examination (near vision and color perception).

High School Diploma or GED required. 

Employees operate in a high performance work team environment and adhere to the Environmental Health & Safety Guidelines.

Desired experience includes:  Non Destructive Testing (NDT), Computer literacy for Statistical Process Control, CMM measuring, and CNC controls.
** Candidates must be able to work any shift**
**Excellent compensation and benefits day one of employment include medical,
pension and 401K**
Applications taken online only
********************************
An Equal Opportunity Employer
A Smoke-Free and Drug-Free Workplace and Pre-employment and Random Screening
M/F/H/V  
The U. S. Government restricts access by Foreign Nationals to certain types of technology and technical data.  Consequently, this posting is intended only for U.S. nationals and permanent resident aliens (i.e., Green Card holder).